By Richard Thomas
Rating: C+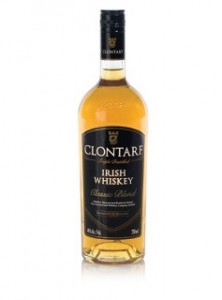 It used to be that there were only two choices in Irish whiskey, Catholic (Jameson's) and Protestant (Bushmills). Yes, there were always many more labels than just those big two on the market, but these were always very hard to find just about anywhere outside of the British Isles. Clontarf changed all that, and Clontarf's marketing bills the whiskey as "The New Irish." Named for the medieval Battle of Clontarf, this Irish whiskey is a product of Castle Brands, the same people who make Gosling's Rum and Jefferson's bourbon.
The Whiskey
Clontarf comes in a normal, clear glass bottle that shows off the whiskey's fine light straw coloring. The bottle has screw cap, which would be a sign of cheapness in bourbon or scotch, but is fairly typical of Irish whiskey. Clontarf Classic is blended and bottled at 40%.
Like most Irish whiskeys, Clontarf is triple distilled and aged in used bourbon barrels. That touch made Clontarf sweeter on the nose and tongue than I had come to expect from Irish whiskey. Both the scent and the taste bear strong toffee and butterscotch undertones, yet retain the light, smooth texture of Irish whiskey. The finish is light and easy.
Price
Clontarf Classic Blend (rather than its Single Malt) is modestly priced at about $25 a bottle. That makes it more expensive than Jamesons or Bushmills, but Clontarf is also somewhat superior to the latter Irish whiskeys and priced in proportion to that improvement in quality.