Updated June 5, 2016
By Richard Thomas
Average Rating: B-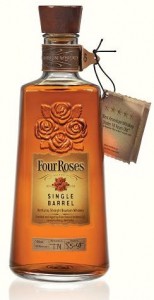 Owned by the Japanese beer-maker Kirin, Four Roses Distillery started out making bourbon primarily for export, but Four Roses whiskeys have a growing presence on American liquor store shelves. Four Roses Single Barrel is a signature of the premium end of the Four Roses line, and remains in the Four Roses style of sweet, floral bourbon whiskey.
Four Roses also produces a line of Limited Edition Single Barrel bourbons, which are distinct from the general single barrel whiskey reviewed here. These two different product lines are easily distinguished, as the limited editions lack the signature Four Roses yellow label and have the bottling year prominently inked on the front.
The Bourbon
Four Roses Single Barrel is made from a recipe of 60% corn, 35% rye and 5% malted barley. Single barrel bourbons are unblended, so all bottles of Four Roses Single Barrel bourbon are filled from one cask with a minimum of processing. The bourbon whiskey is bottled at 100 proof (50% alcohol), the bottle is akin to a Victorian-era decanter, complete with big wood and cork stopper, and the bourbon has a deep amber color.
Like all Four Roses bourbons, the single barrel has no age statement on the label. However, like most single barrels, there is a sticker on the bottle identifying what barrel the bourbon came from. If you call the distillery, they might tell you how old the whiskey is. The company has hinted that all their single barrels are at least seven years old.
On the nose, Four Roses Single Barrel has a syrupy vanilla scent with hints of musty wood, so the bourbon clearly absorbed quite a bit of flavor from the barrel. The flavor is deeply sweet and somewhat floral. Unlike many floral whiskeys, which are often light, Four Roses Single Barrel is full-bodied. The finish is spicy, sweet and fiery. Char smoke flavors are absent from Four Roses Single Barrel.
Addendum by Debbie Shocair
The aroma is one of deep caramel, honey and taffy. After breaking it with ½ tsp water, notes something like saltwater taffy became more prominent. The mouthfeel was along the top of the tongue. In terms of finish, it's short and spicy, with notes of caramel, toasted wood, and cardamom. It's lingering and pleasant.
The Price
Four Roses Single Barrel is usually priced between $35 and $40, making it a bargain for a single barrel. While this whiskey lacks the complexity I want from a single barrel bourbon, it is also substantially cheaper than most other single barrels as well.