By Richard Thomas
Rating: C+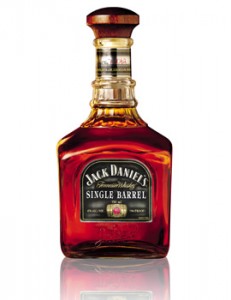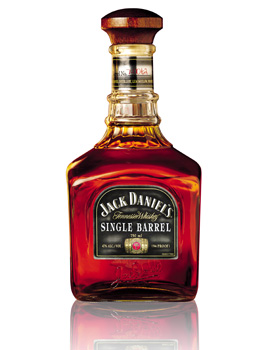 Thanks in large part to it's use of the maple charcoal-filtering Lincoln County Process, Tennessee whiskey enjoys a flavor profile all its own. This extra step is all that separates Tennessee whiskey from Kentucky bourbon (well, all excepting a little Volunteer State pride over their homebrew), but it's a big step.
The single barrel idea, on the other hand, is a Kentucky original. Blanton's was the first commercial whiskey in modern times to embrace the notion of a regular, unblended product drawn from single, selected casks. The idea soon caught on, and it wasn't long before the neighbors in Tennessee were up to the same thing. Single barrel whiskey is, by its very nature of coming from specially chosen casks, supposed to represent the very best of a given whiskey.
Keeping these two ideas in mind, the Lincoln County Process and the single barrel philosophy, I approached Jack Daniels Single Barrel for the first time.
The Whiskey
Jack Daniels Single Barrel Tennessee Whiskey comes in an understated, squat and squared clear glass bottle, with a fine wood and cork stopper. The packaging is suggestive of nothing so much as a decanter. In fact, if you want a decanter and own a bottle of JD single barrel, I recommend scrubbing the labels off and recycling this bottle. The whiskey is bottled at 47% alcohol (94 proof).
The single barrel has the signature full-bodied, mid-toned amber of Jack Daniels. When you give this stuff a swirl in the glass, the color is so rich that even the coating left behind has a little body on it. The nose is powerfully loaded with sweet, syrupy flavors: corn and maple sweetness by the spoonful, a hefty dash of oaky vanilla, plus a little bit of a minty, spicy note. That last part gives a slightly crisp texture to what would otherwise be something akin to Vermont grade A maple syrup.
The flavor is just as thick as the aroma, and just as sweet, with strong notes of caramel and vanilla. Some hints of charcoal and woody astringency are in there, just enough to give the whiskey a little character. The finish is a middling affair: mid-length, mid-bodied, mid-warmth.
I found the Jack Daniels Single Barrel a little underwhelming, especially considering that Jack Daniels Black Label is one of the best mass market American whiskeys out there. The whiskey is certainly more of what the standard label is: stronger, sweeter, and heavier.
Yet despite all that, the whiskey is only slightly complex, and shows no balance. A sip of this stuff smothers your palate. It's a little better than Jack Daniels Black Label, but only slightly. Given how much it costs (see below), anyone but a diehard Jack Daniels fan should skip it.
The Price
Jack Daniels Single Barrel Tennessee Whiskey retails for between $40 and $45, depending on where you do your shopping.