By Kurt Maitland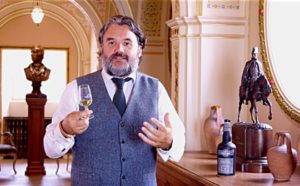 Quoting myself and The Lost Distillery Company, "The Lost Distillery is an independent whisky company whose stated mission is 'to create present day expressions of legendary whiskies that belonged to the craft of whisky distilling almost a century ago'."
Between Prohibition and the time of Scotland's "whisky loch," (i.e. the whisky crash of the 1970s) many distilleries closed, but most don't stir up the fervor of the better known, closed distilleries of recent times like Rosebank, America's Stitzel Weller and Japan's Karuizawa. Even for the hardcore collector, the Lost Distillery's releases are merely a name in Alfred Barnard's The Whisky Distilleries of the United Kingdom that were so long ago that even older and more experienced fans have never had taste.
The Lost Distillery Company has been remedying this by recreating the whiskies that would have come from these now "silent stills." They do this by researching the stills that were used, the type of barley that went into the original process, the water source, the wood, etc. They then use this information to source single malts that would be the closest to what the original tasted like and, in effect, resurrects the whisky to the best of their ability."
To talk to us about how Lost Distillery has been achieving this goal, I've had the pleasure of chatting with the Lost Distillery's new Global Brand Ambassador.
KM: So, tell us a bit about yourself and your background in whisky?
EH: I'm the Global Brand Ambassador for The Lost Distillery Company, based in Ayrshire, Scotland. I started with the company last summer, with a background in hospitality and events. I've presented multi-sensory experiences across Asia and Europe and was the first person to confidently pair whisky with food at a molecular level. I hold a lifetime of passion for whisky, which came from growing up in Glasgow and having a birthday at New Year. I enjoy creating dynamic whisky tastings that transport audiences to the 19th century through music pairings and blindfolded taste tests. It's all part of the fun. As an experienced mixologist, I've presented classic cocktails at several guest bartender events around the world.
KM: What can you tell us about Lost Distillery Company?
EH: In the last century, nearly half of all Scotland's whisky distilleries have been closed or lost forever. With these renowned brands silenced through the impact of wars, prohibition, globalization or plain bad luck – we feel it's a tragedy. It has inspired us to rediscover those lost legends from our home at the Dumfries House estate in Ayrshire. The Lost Distillery Company range consists of three levels—Classic, Archivist and Vintage—which includes 10 to 12 year profiles, then 15 to 18 years and the latter being the oldest stock of 25 years. Started by two Ayrshire lads, Scott Watson and Brian Woods, who wanted to breathe new life into the local whisky heritage it has really been driven by their love for whisky and passion for quality malts. We've been overwhelmed by positive responses from whisky fans and recent accolades.
KM: Tell us about the process that Lost Distillery undertakes to recreate lost blends?
EH: When we assess a long-closed distillery, we analyze if there is enough archive material, if the spirit was of good quality and, most importantly, if we can protect its legacy. Afterwards, we painstakingly research every aspect of the closed distillery's life. The archivists dissect the distillery's 'DNA' which includes: water, peat, barley, mashtun, still, wood, era, and region. Afterwards, we debate with the archivists and our expert whisky production team to determine a suitable taste profile. The whisky production team sources and blends from the finest single malts of today's open Scotch whisky distilleries to recreate what we feel the long-closed distillery would produce today if they were still alive, so not a copy of the past. Whisky production and tasting profiles have changed so much in the past 200 years. It can take up to one year to bring each historic whisky's story to life and is a labor of love.
KM: What do you feel makes Lost Distillery's releases stand out when compared to other whisky blends on the market?
EH: Lost Distillery creates Blended Malt scotches, which is a complex spirit that delivers a full orchestra of flavor. Each expression presents unique flavors that have thrived before the Scotch whisky regions we know today, so some expressions don't behave the way we might expect. For example, our Islay (Lossit) expression holds elegance without any aggressive bitter notes, which is quite unique for those who enjoy smoky Scotch. There is an expression for a multitude of whisky drinkers and a story to match. Our iconic black bottle draws people's attention and contributes to the intrigue, but the packaging is a genuine homage to the way bottles were produced in the past [before the technology of clear glass]. It certainly feels like we provide a unique and interesting story and tasting profile that people are now looking for in Scotch whisky.
KM: What do you love best about Lost Distillery's releases?
EH: We explore numerous different expressions in a single range, which is honestly quite exceptional, and on top of that we can taste vertical expressions between the ages to explore what might have been. This discovery range lends itself to food pairing, cocktails in the Classic Selection and pairing with a good quality cigar. Our whiskies truly stand out compared to other Scotch whiskies. For example, the Gerston Archivist, has toffee notes on the nose and the smoky notes only comes in at the finish — the rich layers of flavor are incredible and really grabs your attention.
KM: Do you have a favorite current or upcoming release?
EH: It's difficult to choose a favorite and I often find we change our whisky preferences with the seasons or how we feel at the moment. Nowadays, I've found Scotch can polarize towards smoky or Speyside sherry cask style, but our Auchnagie Archivist (15-18-year-old profile) has developed a particular uniqueness for its style. Although Auchnagie was a highland distillery, its whisky has more of a lowland profile consisting of citrus, cereal, honey and floral notes with a wonderfully long finish. Certainly, a go-to in these long summer evenings.
KM: Can you tell us what to expect over the next year from Lost Distillery?
EH: We plan to grow more in the United States and hope to have coast to coast availability in the near future. With more state-wide availability, we will be able to attend more spirits events in order to share these incredible stories and drams.
In the fall, we will launch a super exclusive limited release secondary cask series of whiskies. These special expressions are inspired by the style of cask finishes which would have been available in our lost distillery era of the 19th century. Only available at specialty liquor stores, these whiskies will be a little special to gift and enjoy during the holiday season.