By Kurt Maitland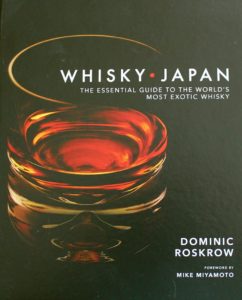 Japanese Whisky is a particular interest of mine, and a bumper crop of books covering Japanese whisky are out there for your education and reading pleasure, written by folks such as Dave Broom, Stefan Van Eycken and the man I've have the pleasure of interviewing today, Dominic Roskrow, the author of Whisky Japan.
KM: You are deservedly well known in whisky circles but for those whom might not be familiar with your work, tell us a bit about yourself?
DR: I come from Leicester in England and was trained as a journalist at the Sheffield Star. After working on newspapers in England and New Zealand, I got a job as a drinks writer in England and since then I have written for, and edited, a range of magazines, including Whisky Magazine, Whiskeria and The Spirits Business. I started my freelance business 12 years ago and since then have specialized in whisky from non-traditional areas. I have written 10 books on whisky, and am proud to be both a Keeper of the Quaich and a Kentucky Colonel.
KM: I've read the book [Whisky Japan], love the book and I'm a big fan of you and your writing. So I'm curious as to what was the hardest part of writing this book?
DR: Wow. Thank you! I think the hardest thing was getting the balance right between writing a well-informed and authoritative book and sounding like I'm an expert on Japanese whisky. I'm really not, and both David Broom and Stefan Van Eycken now have books on Japanese whisky that will take the subject to a whole new level. But my intention was to write a book as an investigative journalist would: as an outsider telling a story. There's a chapter in the book when I talk to the people who know more than i do, who were there when the story unfolded. I didn't want to take the spotlight away from the people who helped the story unfold. Also, I don't speak Japanese, so it was a struggle not to make the book all about Westerners and not about Japan's distillers.
KM: When you started working on the book, what did you want the reader to come away with?
DR: I wanted to take readers on a journey. It's a beginner's guide to Japanese whisky, and the intention was to show  that it wasn't a fad and it hasn't appeared out of nowhere. It has a history, it is well and truly embedded in the overall whisky story, And I wanted to capture the reasons why Japanese why is exciting, and why it deserves the plaudits it has earned.
KM: When you were researching this book, what sources did you lean on the most?
DR: When I write a book I rarely use written sources. This isn't arrogance, it's the way I was trained as a journalist. I approach a book in the same way as I would a news story on a daily newspaper – by interviewing people and asking questions. That said, Dave Broom's The World Atlas of Whisky was a constant companion when checking facts and details. I was given a lot of support from the Japan National Tourism Organization for the bits of the book which read like a Lonely Planet guide.
KM: While you were working on Whisky Japan, did any of the industry changes (Suntory buying Beam, Nikka making the shift to all NAS releases, etc.) affect how you proceeded with the book?
DR: Perhaps surprisingly, not really. With a book project you know you're going to be out of date as soon as you publish, especially with a dynamic industry as whisky is at the moment. You try to write in a way that won't date, so you avoid too many dates. You tend to draw a line in the sand and work back. I did write a chapter about the future of Japanese whisky and there are references to Non-Age Statement releases and the Beam deal but the book was really an attempt to explain how Japanese whisky got to this point rather than an analysis of what these trends mean going forward.
KM: Do you have any accessible go-to Japanese whiskies? If so what are they?
DR: It's not easy to find reasonably priced Japanese whisky, is it? But there's nothing wrong with the Yamazaki or Hakushu Distiller's Reserve or Hibiki Harmony. And I really like Nikka From The Barrel.
KM: Now that a little time has passed since the publication of your book, what is your take on the current state of the Japanese whisky industry?
DR: I'm not sure what has changed since the book came out. Japanese whisky is hard to find, on location in many markets, and remains an enigma, and often an unaffordable one, for many whisky drinkers. I've done two sold out Japanese tastings in Dublin recently, so the interest is clearly there. But many of the questions I get asked are about price, rarity, and collectability, and I think that's a shame.
KM: Finally, what are you working on next?
DR: Gavin Smith and I have substantially updated Michael Jackson's classic book Whisky: The Definitive Guide, which was last published 12 years ago so a lot has changed. That's just about to be published. I've also got two small books on whisky and gin set to be published by Harper Collins. And I'm currently working on five book projects for 2018, including a second edition of my World's Best Whiskies as well as Whiskey America, a follow up to Whisky Japan, but focusing mainly on the US craft revolution, due to for publication this time next year. I'm researching that now. So lots on, though the down side is I'm not getting out very much!