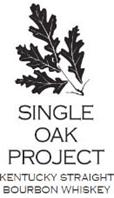 (From Buffalo Trace Press Release) Buffalo Trace Distillery releases the ninth round of the Single Oak Project Bourbon and with it some interesting perspectives from the top two consumer reviewers.
In this ninth release, all of the bourbons that comprise this release entered the barrel at 125 proof, aged within the concrete walls and floors of Warehouse L, with a number three barrel char after the staves were seasoned for six months.  This allows the release to focus on three other variables, the recipe, wood grain size, and tree cut.  All of the other variables such as aging warehouse, entry proof, char level, and stave seasoning remain constant.
So far, more than 2,481 industry expert and consumer reviews have been logged online at www.singleoakproject.com and barrel number 106 continues to remain at the top, for now.  It has battled for that top spot with barrel number 97 for the past several months, but currently retains its lead as the consumer favorite.
Two of the top consumer reviewers of the Single Oak Project, both of them members of the MAD Oak Apostles tasting club in Madison, Wis., have shared their insights into what they've learned so far on the Single Oak Project.