By Richard Thomas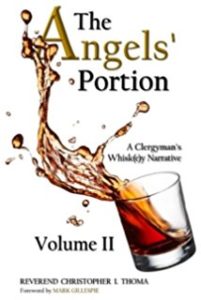 Concurrent with the whiskey boom has been a surge of whiskey books, so much so that it seems everyone has a book out now (including us: our work was heavily drawn upon for the new anthology, The New Single Malt). Most of these works include a review section, and I think if you are going to get a book of whisk(e)y reviews, there are one of two things to look for: it should exhaustive and authoritative or it should be an entertaining read.
As a whiskey blogger, Lutheran priest Christopher Thoma has carved out a niche for himself as a gifted storyteller. Each entry is presented with personal anecdotes, stories from the Bible, tales of Aquaman, and much else, all infused with a dose of the irreverent. When you break out one of your nicer bottles and pour a round for friends, you couldn't hope for better than to have someone with Thoma's flair sitting in the group.
This is Thoma's follow on to his first compilation of his blogs, and he has been busy, because at 620 pages it is nearly twice as long. What he has done is fairly straightforward: taken a few hundred of his reviews, gotten them organized, and added a few non-review blogs at the end for good measure. The contents are very Scotch-centric, but bourbon and other types of whiskey get some love as well.
The downside is that this is literally a compilation of blogs, with minimal new attention given to the contents. The layout and graphics look like the place they came from. In most instances the pictures used were poorly suited to black and white, so don't expect a slick presentation in Angels' Portion V. 2. This is a book you buy for the text, not the full color photography.
That said, I must come back around to my original point: with so many whiskey books on the shelves, if what you want is a reference resource on particular expressions, you should go with either exhaustive and authoritative or for an entertaining read. It's actually rather surprising how many of the books I have seen fail to be either, and therefore fail to stand out. Thoma is an able storyteller, which in some ways is more valuable than the tasting notes of a Jim Murray. With Thomas, you're as likely to go back and re-read what he said about a whiskey after you try it, just for the amusement value, as you are to check in before you buy it.