By Richard Thomas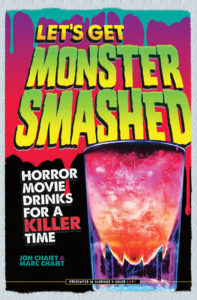 I was presented with a minor personal dilemma recently, very much in the vein of trivial "white guy problems," because of a new book that word of came across my desk. Like many a Gen Xer guy, I'm a huge horror fan, dating back to the low budget, VHS-bound slasher movies of the 1980s. Yet, while I like cocktails, I don't enjoy making them, and therefore have little use for cocktail recipe books.
Thus I had strongly mixed feeling about whether to fiddle with Let's Get Monster Smashed: Horror Movie Drinks For A Killer Time. On the one hand, the idea of having something to support a Michael Meyers marathon sounds killer (pun intended). On the other, doing elaborate mixology myself is a major turn-off. Thankfully, the book has not just some very solid whiskey-driven cocktail ideas for some of my favorite murderous movies, but many are actually easy to make.
For starters, given that corn is the cornerstone of American whiskey, what could be more natural than pairing something with that Stephen King slasher classic Children of the Corn? Thus, the Kid Cob, which takes corn whiskey or a corn and sugar moonshine and combines it with some ingredients that are either probably already in your kitchen or could be made from things already in your kitchen.
My love for Roger Corman flicks made me swoon over the idea of Piranha Head Punch, taking in as it did one of my favorite Corman works. From the sounds of it, the punch would make me swoon to, because it starts with 10 (!!) shots of whiskey, and then ups the ante by combining it with pear brandy and cognac before throwing the punch fruits in.
And for something more mainstream, there is Somerset's Big Swig, tied into the David Fincher thriller Seven. This series of Seven Deadly Sins themed cocktails is a natural for the Whisky Blasphemy set too, since one of them calls for the use of Eagle Rare 17 Year Old in a mixed drink.
Throw in some pretty garish, "It Came From Outer Space" style artwork, and you have a pretty nifty, quite gimmicky cocktail book to lay out next to a stack of Fangoria magazines.