By Michael Cervin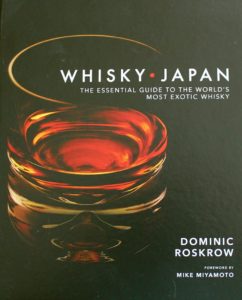 I'm a fan of Japanese Whisky, but aside from a few iterations with international distribution, it's hard to find and harder to understand its genesis and current place on the global stage.
With his new book, Whisky Japan: 
The Essential Guide to the World's Most Exotic Whisky, author Dominic Roskrow authoritatively details everything you might want to know about Japanese Whisky; its beginnings, its successes and its hard to find bottlings with plenty of photographs, interviews with master blenders, and a breakdown of the whisky currently available in Japan. There's a section on whisky cocktails and food pairings, and for the die-hards, a section of various districts in Japan with comprehensive whisky bars.
The success of the book is that it is solely devoted to Japanese whisky, but this also means its audience is also more niche than a book covering diverse expressions. This is not a global romp in search of curious whisky distilleries, but a clear and focused approach to one country, while still identifying its own unique expressiveness. What should be of intrigue is how single minded the Japanese were in originally pursuing craft world-class whisky.
"The Japanese turned to Scotland to learn how to make malt whisky and their whiskies are made in a similar way," Roskrow writes. "Their mainstream whiskies have the same sweet fruitiness that you'd expect to find in Speyside, and there are a number of heavily sherried and big peaty whiskies that would be familiar to fans of big-hitting Scottish single malts." But Roskrow goes on to write, "Japanese whisky has therefore taken a Scottish blueprint and quite deliberately tweaked it to suit a Japanese palate. It just happens that those tweaks have resulted in a range of whiskies that appeal equally to Western palates."
Obviously Yamazaki and Nikka are among the top ones you may have already tried but this book brings to life smaller, lesser know distilleries who make whisky only available in Japan. "Japan has few whisky distilleries, and unlike in the West, where marketing is considered essential to successful branding, Japan's whisky producers do not court whisky writers and bloggers," Roskrow writes. And this is the main reason Japanese whisky continues to be misunderstood, unless it's interpreted by a Western palate and frame of mind. Roskrow opens the veiled curtain to expose the heritage, current trends and mystery surrounding Japanese Whisky.
Michael Cervin is the author of seven books (including California Wine Country), with a focus on wine and spirits. He contributes to Robb Report, Old Liquors Magazine, The Hollywood Reporter, Forbes, The Tasting Panel, Fine Wine & Liquor Magazine (China), Decanter (London), Wine & Spirits, Draft, among others. He is also professional wine and spirits judge serving at Taste of Rum Festival in Puerto Rico, The Critics Challenge, San Diego Wine & Spirits Challenge, and San Diego Spirit and Cocktail Festival, and he writes a wine and spirits blog, Boozehoundz.