By Richard Thomas
With its combination of sweetness and charred smokiness, bourbon was made for pork. That should come as no surprise to any student of Southern culture, since pork was the staple meat Old South. Think about southern hams, southern sausages and the barbecue of North Carolina and Tennessee, or the myriad recipes for pork-flavored soups and stewed greens.
The flavor of pork has always lent itself well to the sweet and smoky treatment, hence its high profile on the barbecue grill. However, it is not always possible to baste some chops and ribs in bourbon barbecue sauce and slap them down on the charcoal grill. During cold winter and rainy spring months, a bourbon-loving cook needs something he can make indoors, and that is where this bourbon marinade for pork chops and steaks comes in.
My standing rule about cooking or making mixed drinks with bourbon is that using a fine bourbon is a waste, but using a bad bourbon ruins whatever you put on the menu. Steer clear of the rotgut, and use middling bourbons like Maker's Mark or Four Roses in this bourbon marinade.
Ingredients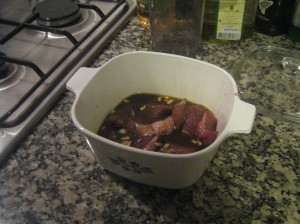 Boar steaks soaking in this
bourbon whiskey marinade(Credit: Richard Thomas)
1/4 cup of bourbon whiskey
1/3 cup of soy sauce
2 tablespoons of Worcestershire Sauce
2 tablespoons of water
1 tablespoon of minced garlic
1 tablespoon of dark honey (substitute brown sugar if dark honey is not available)
1 tablespoon of vegetable oil
Four pork chops or steaks, or two large tenderloins
Recipe Instructions
Make the marinade by mixing the bourbon and the other ingredients together in a shallow bowl or pan. Place the pork in the same container, turn the pork over to coat both sides, and place that container in your refrigerator. The meat needs to marinate for at least eight hours, so it is best to make the marinade the day before and let the pork marinate overnight, or to prepare the pork in the morning and let it marinate through the day.
Cook the pork either by broiling it or grilling it on the stove top. If you grill it, set the stove burner to high heat. Cook pork chops for 12 to 15 minutes and big steaks for 20 to 25 minutes, and flip the meat in the middle to cook both sides.